Rebecca Barger Photography, LLC is an all inclusive company. We're happy to work with clients of every race, religion, sexual orientation and culture.
About Rebecca Barger
I'm a former Philadelphia Inquirer staff photojournalist now photographing events, commercial and corporate photography, web-site display, head shots, family photos. I specialize in natural style wedding photography. As a working photojournalist, I created candid photographs every single day. I'd love to create those kinds of photos for you, too.
My inquisitive nature led me to a career as a staff photojournalist at The Philadelphia Inquirer. It has taken me to more than 60 countries over two decades. I've photographed over 500 weddings, mostly in the Philly area and as far away as Bali, Indonesia.
My goal is to help you get comfortable and have you look your best. I do this by applying an editorial shooting style — helping you be natural without any stiff posing.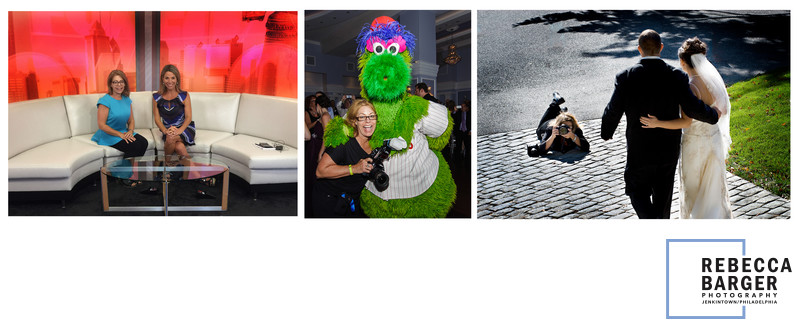 My Photographic Approach
My background as a photojournalist gives me a special insight, an intuition allowing me to anticipate and document special moments. My friend says I'm a ninja, moving in the background for candid images. I know when to document and when to organize people for group photos.
I have always loved the photo essay because it tells a story, no words necessary. I apply this approach to your special event. From make-up to cake-cutting, my work will include photojournalism, portraits, candids, fashion and close-up detail shots, while capturing all of the emotions you feel on your wedding day.
Enjoying your entire day is of utmost importance, and we'll keep it fun. Part of my service is to write a detailed photo timeline with you so that we can get all the photos you've envisioned. We'll work together to tell your unique personal story in a collection of exceptional images — your first family heirloom!

My Photography Has Been Published In:
Time Magazine, The Smithsonian Magazine, Modern Luxury Weddings, The Philadelphia Inquirer, The Jewish Exponent, Sports Illustrated, Modern Bride, The Knot, Philadelphia Magazine, Main Line Today, Yahoo News, Philadelphia Wedding, Style Me Pretty, The Knot New Jersey, and The Knot Pennsylvania. My work has also been included in numerous books and calendars. I have also been a provider of fine art stock image photography, one of my images is a fine art poster that has been distributed by national chains for 2 decades. (see below, kids diving into Amazon)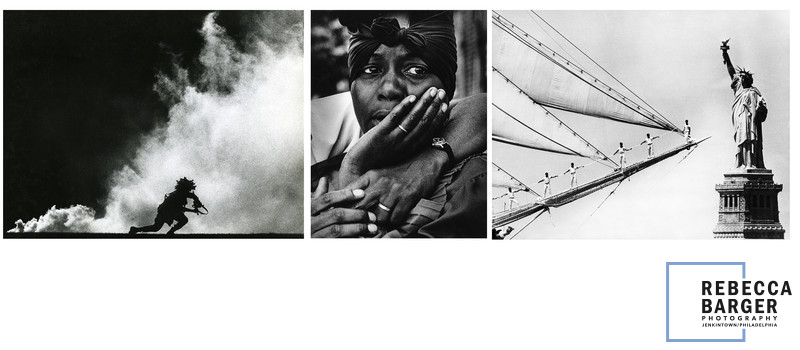 Rebecca Barger Bio
All I ever wanted to do was take pictures. My first photos were published when I was a teenager. This led me on a career path as a nationally known photojournalist where I get paid to do what I love — exploring fascinating things and meeting interesting people.
While in art school, I interned as a photographer for The Miami Herald and graduated with the Best Photography Portfolio Award from the Art Institute of Fort Lauderdale. My proudest moment as a student was when the president of the school ripped down my nude image of a mother-to-be, claiming it was indecent! He reinforced what I was just finding out, about how images and provoke emotion. I also knew I'd be fighting for my images in my future.

Fresh out of college, I shot a photo of the 100th anniversary of the Statue of Liberty that was nominated for a Pulitzer Prize. What a surprise! It was the best award that I didn't win, because the Philadelphia Inquirer offered me a staff position. I was, by far, the youngest photographer on staff and one of the few women in the photography department. While shooting baseball spring training, the Phillies temporarily banned all still photographers from the locker room because there was a female photographer — me!
I covered international events, sports, politics and fashion for The Philadelphia Inquirer, and was nominated for another Pulitzer Prize for my photos of the Rwandan Genocide. My images have been published worldwide in magazines, books, calendars, and posters. You can even purchase my poster of children diving into the Amazon River at a giant retail store! (photo above)

I began shooting weddings to pay for the horse I kept in Fairmount Park. I left the newspaper to pursue event photography full time, which also allowed more time with my daughter. Weddings were an obvious transition to continue shooting photo essays and apply that approach to a couple's special day.
I've captured images from the mountain top monasteries in Greece to the war-torn jungles of Rwanda. I've photographed weddings on Caribbean beaches and Bali. Recently I captured a series of images of boxing in Cuba for Smithsonian Magazine. And in all the places, my focus has always been on the people.
I live near Philadelphia with my teenage daughter. We travel extensively. I believe travel equals knowledge and experiences are more important than things. Recent trips have included Cuba to photograph people, Belize to snorkel, Mexico for a music festival and to Iceland to experience the Northern Lights. I enjoy surfing, cross-country skiing and hip-hop classes.